Save the date
October 3, 2019

|

13:00 – Late

Identity Works, Kungsgatan 34, Stockholm
Human World was amazing
Only by humanizing the brand experience will you reach the hearts of those humans you seek the most. We open up our office and welcome you to a full blown inspiration day with brand seminars, workshops and keynote speakers, live music, dinner, bar + DJ.
Thank you all for coming!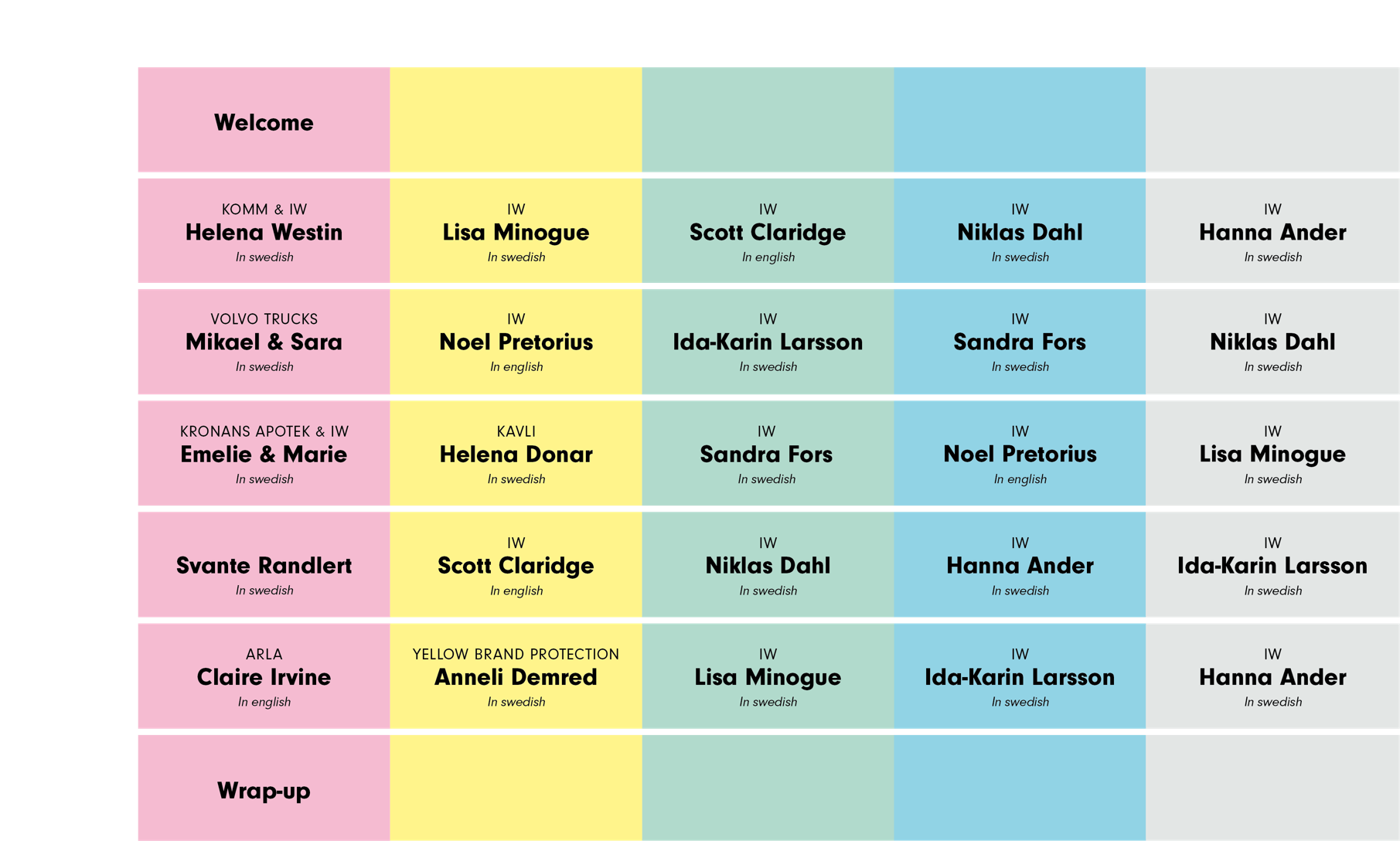 Humanizing the dialogue in the age of automation
Mikael Karlsson, VP Autonomous Solutions, Volvo Trucks. Sara Kuylenstierna, Brand Communications Manager, Volvo Trucks
Join Mikael and Sara on their thrilling journey of bringing autonomous transport solutions to the world. Learn about the disruptive force of automation, the incredible possibilities it brings and Volvo's strategy to take a human perspective to branding and communication.
An employer brand for humans
Svante Randlert, Business and people advisor
The ability to attract, engage and develop the right employees is absolutely critical if you are to have any hope of achieving good financial results. This presentation will give you analysis and tools, practical advice and the inspiration to become a dream employer.

Svante Randlert is one of most requested speakers in Sweden, the Nordics and in Europe on attracting, engaging and developing the right employees in the right ways and in the right places.

Seminar in Swedish
Simplexity
Helena Westin, Chairperson of Komm! Member of the board of IW
Why Humans, still, will make all the difference in our AI enhanced future. It's all about communication. Since communication is everything and everything communicates.
A simple talk about the complex stuff like humans, brains, 'digi-physical' aspects of both-and, the power of love, the troublesome but necessary diversity, creativity, change, fear, polarisation and hate. And therefore the huge need to take responsibility for the omni present and mind changing communication.
Super simple AND deeply complex.
Seminar in Swedish
The journey from medical to lifestyle brand
Claire Irvine - Senior Global Brand Manager, Arla Foods
Take an established brand that looks different in every single market, every market with different equity from packaging, communications, positioning… add on top firmly established consumer and internal perceptions that this brand is a medical solution… then imagine the task of a simple remit… to relaunch Arla LactoFREE as one brand global and make it mainstream - LactoFREE for all. Put simply this is Brand Management not for the light hearted!
This presentation will take you on the journey of Arla LactoFREE where we dared to change, dared to try and dared to lead. Tools, thought starters and tips will be shared on how the impossible may just be possible!
Seminar in English
Tiger Lou
Live performance
Our own rock star and star designer Rasmus Kellerman aka Tiger Lou is bringing his entire band for a fully loaded, the-roof-is-on-fire plugged-in concert at our office. Don't miss it, just don't.
Protect your brand from pirates
Annelie Demred, VP Commercial, Europe At Yellow Brand Protection
Counterfeit sales are estimated to account for 5-7% of world trade and occure across basically all product categories and industries. Copies today are often virtually identical to genuine products so consumers are often unable to detect fraud. The sale of counterfeit goods is known to contribute to drug trafficking, money-laundering, and even terrorism, and the people involved are often subject to beyond poor working conditions.
Seminar in Swedish
Humanism at heart for a better future
Helena Donar, Marketing & Innovation Director Kavli
The story of Kavli comes from a single man's dream. Olav Kavli whose heart pounded just as hard for soft cheese as for humanity, and he created something much bigger than just a food company In a sustainable way Kavli is a different kind of company. Charity is not part of our business. That is the very foundation for it. I am going to share our story, my learnings and give you some food for thoughts based on my experience from working at Kavli - a company built on a mission to create a better future by creating really good products.

Seminar in Swedish
Designing a pharmacy brand from the pack out
Emelie Friis, CMO/marketing director Kronans apotek. Marie Rudolphie, COO/Strategic Director Identity Works
Ten years after the deregulation, the Swedish pharmacy market is highly competitive but not very differentiated. Many brands fight to be the most trustworthy and most consumer oriented alternative. In this setting, how do you create a distinct brand consumers actually like and wants to be loyal to?
Emelie Friis at Kronans Apotek early on recognized the value in investing in branding and design, using the private table offering as a brand-unique asset. In the same way, a new brand identity was developed together with IW and implemented across 328 pharmacies.
Listen to the challenges and thoughts behind the work from Emelie and Marie. It will be a happy-pill!

Seminar in Swedish
Make empathy. Design for somebody
Lisa Minogue, Design Director at IW
At IW we believe that only by truly understanding those humans we seek the most can we reach their hearts. The keyword to understanding humans is empathy.

In our human toolbox we have gathered a set of tools aimed at helping us build empathy and work more human centered throughout the creative process. Come listen to Lisa as she opens up the box and shares our experience from working with the tools inside.

Seminar in Swedish
A short conversation on the emotional side of branding
Scott claridge, creative development DIRECTOR AT IW
Join Scott as he takes a broader perspective to digest and discuss what it actually means to be an emotional brand, and what it requires to become one.
From being another brand with products and services, to becoming a brand we all love, love, love to choose.
Welcome to the emotional side of branding.
Seminar in English
Crafting the next generation customer experience
Hanna Ander, Customer experience strategist at IW
Your brand is the experience you deliver. To win the hearts and minds of the customers you must live your brand while delivering true value for the always connected customer.

At IW we formulate visions for your experience where we detail how to deliver transactional, inspirational as well as emotional value to reach your brands full potential.

Come listen to Hanna as she discusses challenges and opportunities related to next generation customer journey mapping.

Seminar in Swedish
Destination 2025. Tomorrow ready branding
Ida-Karin Larsson, Innovation Director at IW
As we are entering a new decade it's time to gaze into the near future of branding. At IW we believe that all branding begins with understanding humans and the context that the brands exist in.

In the 2020's Generation Z is entering into adulthood and Millennials are established since long. What will it take to future-proof your brand for 2025? What's next after purpose-driven branding, curated consumption and omnichannel marketing? And last but not least how will tech continue to affect us as humans and brand builders?

Come listen to Ida-Karin as she talks about the evolution of branding in the 2020's and how it will affect your brand.

People, technology and the new face of type
Noel Pretorius, Senior Creative AT IW
At IW we believe typography is key in branding. Custom typefaces are strong brand carriers and give brands a unique design voice and expression. Noel Pretorius is a designer who has created award winning retail typefaces and custom fonts for worldwide brands. At Human World he will share one of his more experimental projects which pushes the boundaries in type design.

Noel was a recent speaker at the internationally acclaimed Design Indaba conference in Cape Town. He believes the most engaging designs are those where human, art and computers come together.

Seminar in English

Meet Anna - a day in the life of the new consumer
Niklas Dahl, Senior Strategist & Insight Director
Today's brands act in an increasingly complex world. Brands need to weather the storm of an unpredictable time, with almost schizophrenic consumer behavior and survey fatigue. And as a new generation emerges and human behaviors change, brand must change accordingly and base their strategic decisions on new types of data and insights.

In order to thrive in this new world, we need to think beyond generic, sociodemographic segmentation. We need to walk in the shoes and get into the minds of the new consumers. Learn how, as our Insight Director Niklas Dahl describes a day in the life of Anna 21, a typical next gen consumer, and shares his keys to finding your set of research methods. Expect to challenge old truths and pave the way for new perspectives on consumer insights.

Seminar in Swedish

Navigating the name game
Sandra FORS, senior strategist AT IW
Finding the right name for your product or business can be tricky these days. With millions of business seeing the light of day every year its often hard to find that unique, easy to fall in love with name with a com-adress.
At IW we believe a great brand name come in different shapes and sizes, but there are some aspects you need to consider before deciding which name to go for.
Join Sandra in a seminar where she'll discuss one of the human aspects of any brand – the name. What role does the name play? Are there trends in naming, and should I follow them? What makes a great name and how do I create one?.

DJ Rex Hansson
Rasmus Enström a.k.a. Rex Hansson is a creative at IW during the day and a dj/producer during the night. That's why he is often found taking a nap here and there. He will be serving some tunes to accompany the drink you will be holding in your hand.
*Speakers will be added continuously